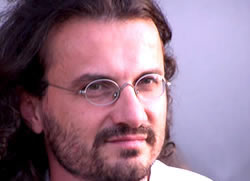 Omid Bürgin

Composer • Music Producer • Filmmaker
Welcome to the home page of Omid Bürgin. You will find his current agenda, with information about his compositions, films, lectures, and workshops, his biography, awards, and contact information.

Omid has divided his time between composing and researching about world music and his international lectures and workshops at respected Institutions, such as Swiss Audio Engineering Society (AES), University of California at Los Angeles Extension, Harvestworks, Manhattan School of Music, New York University (NYU), Tischmeyer Mastering, Hamburg University, University of Music Franz Liszt among others.

Omid currently lives in China, working as a professional Screenwriter & Filmmaker.
Events

Check out the upcoming events
University of London |
August
Representations of Guqin in China Today: From Recurrent Nostalgia, Cultural Etiquette o Revival Movemements
more »
University of Music Franz Liszt |
February
Transkription und Analyse nicht notierter Musik
more »
Konfuzius-Institut Erfurt an der FH-Erfurt |
January
Guqin in Contemporary China
more »
University of Music Franz Liszt |
November
UNESCO-Lehrstuhl und die Verbreitung seiner Inhalte weltweit
more »